adding GAMESHARK codes with PC TUTORIAL
June 4, 2004
Your enjoyment of the many Gameshark codes might be limited to your patience for entering them all. Have no fear, if you haven't heard of or tried out the method I'm showing here, then now is your chance! This is essential if you plan on playing all the new levels that have been created recently.
IMPORTANT: THE FOLLOWING EXAMPLE WILL DELETE THE GAMESHARK CODES THAT YOU CURRENTLY HAVE ON YOUR GAMESHARK. IF YOU WANT TO KEEP THOSE CODES, YOU MUST UPLOAD THOSE CODES INTO A TEXT FILE THAT YOU MUST CREATE BEFOREHAND. ONCE YOU HAVE DOWNLOADED YOUR CODES INTO THAT FILE ON YOUR PC, YOU CAN THEN ALTER THEM OR SIMPLY PUT THEM BACK ON THE GAMESHARK AT A LATER TIME.
IMPORTANT: FROM PERSONAL EXPERIENCE I RECOMMEND UPLOADING AND DOWNLOADING AS LITTLE AS POSSIBLE. I HAVE NO PROOF, BUT THE MORE YOU DO THE MORE WEAR ON THE GAMESHARK ITSELF. THESE DEVICES AREN'T INDESTRUCTIBLE AND THEY WILL EVENTUALLY NOT TURN ON FOR YOU.
STEP 1:
Before you can get excited about this method, I must inform you that not all Gamesharks are able to connect to your PC. It must firstly be a Gameshark Pro Version 3.2 or 3.3. Bottom line is you need a port on the back of the Gameshark.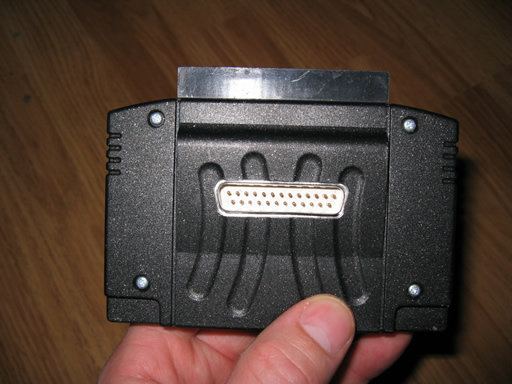 STEP 2:
Now that you are happy about having a port on the back of your Gameshark, you are in for another surprise! You must be sure that there is a LED display when you turn on your Gameshark. It will count down from "5" and will go blank after the countdown or initial start when powered up.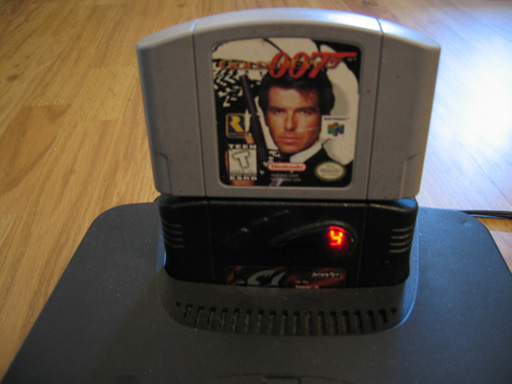 My story is sad because I upgraded 2 Gamesharks which I sent to Interact in the US. They sent me nice Gamesharks Version 3.3 in new boxes and everything. Of course I only opened them recently to find that they don't have a working LED and therefore the port on the back does not work. I bought two pieces of shit and when I contacted them about this, they claim that this was done before Interact was sold to them. Some other company owns the GameShark and Interact product name. That was total garbage in my opinion. Talk about wiping their hands of any responsibility. Sure keep the name but don't honour products that bear that name.
STEP 3:
Now that you have working parts, you must get the proper cable for the task. A printer or parallel port cable is what you need.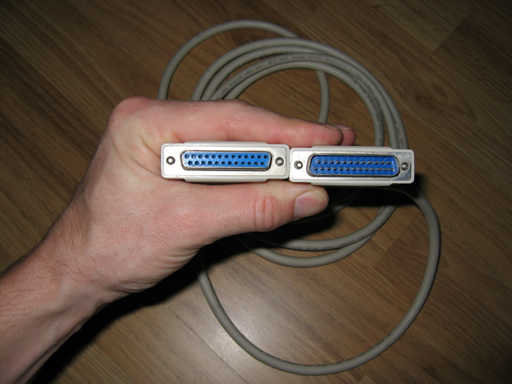 STEP 4:
Software is your next need. I recommend the utilities from GSCCC which can be found HERE. Yes these work with the Windows XP operating system!
STEP 5:
Start the GSCC utility program and follow the step shown in the pictures below.
The default setting should work fine for you in the CONFIGURATION. Click on the "Auto Detect Settings" button.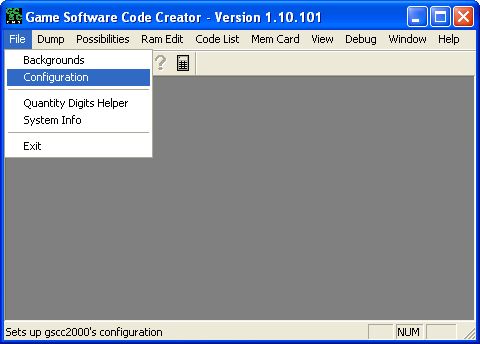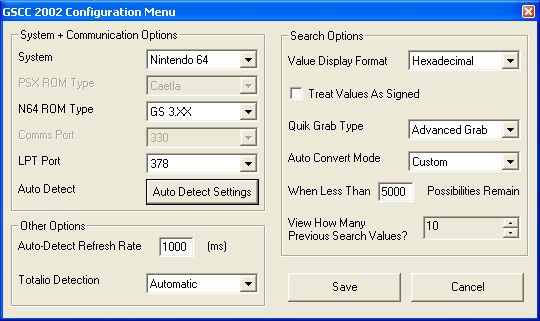 Code List is where you can enter your Gameshark codes.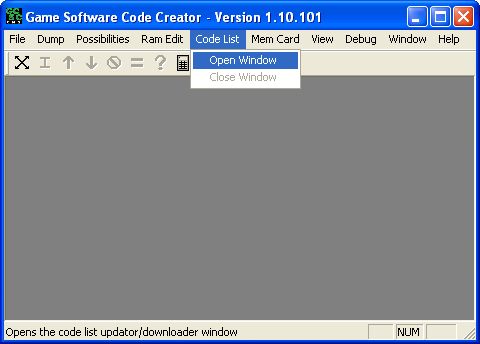 IMPORTANT: THIS IS THE STEP WHERE YOU NEED TO DECIDE IF YOU WANT TO KEEP THE CODES THAT ARE CURRENTLY ON YOUR GAMESHARK. IF YOU DO, THEN YOU NEED TO CLICK ON THE "DOWNLOAD TO FILE" BUTTON AND CREATE A FILE FOR YOUR CURRENT GAMESHARK CODE LIST. OTHERWISE YOU WILL OVERWRITE THEM AND THEY WILL BE GONE!!!!!
There are a few options here, but to keep it simple simple click on the "Upload File" button which will open a window where you can browse for the file you want on your Gameshark. If you don't have a Gameshark file yet, then read the next step.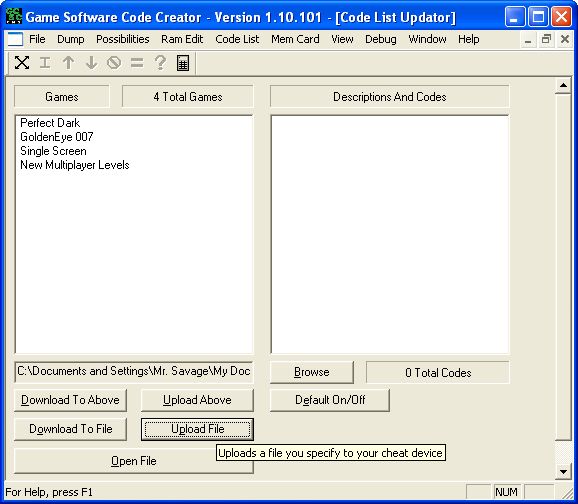 STEP 6:
Use NOTEPAD to edit your code lists. You can download my entire codes list HERE which you can
A very important note is that you cannot have any blank spaces in your file or it won't load onto the Gameshark. This is critical for you to understand. What is important here is that you know how to find the spaces that are causing your file to crash. Here is what you have to do.
What is wroing with this picture? It looks like nothing but the file won't upload onto the Gameshark. The reason?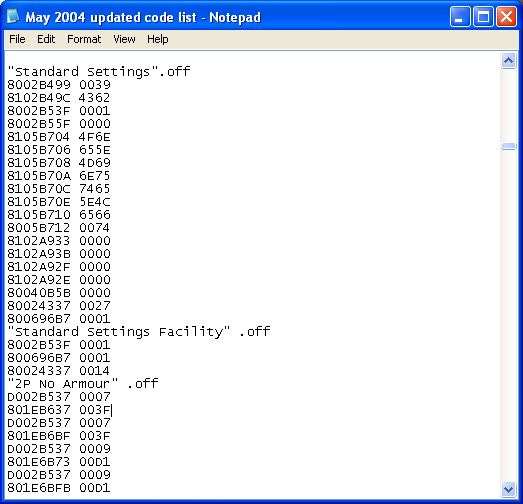 Damn blank spaces is why. The only real way of finding them is to select all, and scroll through the file and find the blank spaces. As you can see below, there are two which need to be deleted. So, remember this method.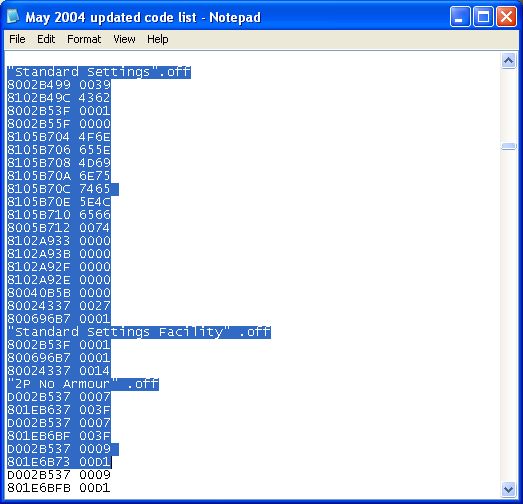 If you need any assistance or further info, contact me.